No paparazzi fears here! Soap stars Michael Greco (EastEnders) and Natalie Anderson (Emmerdale) join stage regulars including Niamh Perry and, in the starring role, David Albury of EXPOSURE THE MUSICAL - Life Through a Lens, the photo-mad musical supported by Getty Images...

The world premiere of EXPOSURE THE MUSICAL - Life Through a Lens will run at the St James Theatre, for a limited season, from 16 July until 27 August 2016, with press night on Thursday 28 July 2016.
The full cast forEXPOSURE THE MUSICAL - Life Through a Lens are David Albury (Jimmy), Natalie Anderson (Tara), Andy Barke (Ensemble), Rhiannon Duncan (Lust/Ensemble), Zeph Gould (CEO/Sloth/Ensemble), Michael Greco (Miles Mason), Kurt Kansley (Jimmy's Father/Envy/Ensemble), Stevie Mahoney (Ensemble), Niamh Perry (Pandora), Cassie Rogers (Ensemble), Lauren Stroud (Ensemble), Jahrel Thomas (Aid Worker/Gluttony/Ensemble), Manny Tsakanika (Ensemble) and Ella-Rose Whitehouse (Ensemble).
The book for this new musical was written by Mike Dyer, with Quentin Russell as script consultant and dramaturgy by Phil Willmott, who is also directing this World Premiere. Mike Dyer has also written the lyrics & music with co-writers Philip Cohen, Vince Hudson, Fred Johanson, Clayton Moss, Charles Olins, Sara Eker Peller, Mark Street and Adrian Wyatt.
EXPOSURE THE MUSICAL has a unique partnership with Getty Images, enabling the production to feature iconic and compelling imagery from one of the world's most remarkable collections.
EXPOSURE THE MUSICAL will have choreography by Lindon Barr, set and video design by Timothy Bird, costume design by Carla Goodman, lighting design by Ben Cracknell, sound design byBen Harrison, musical direction by Mark Collins and casting by Anne Vosser.
Young photographer Jimmy Tucker faces the biggest and most exciting challenge of his life when a stranger commissions him to find and shoot the seven deadly sins alive and kicking in modern London.
But in a break-neck race through the night, a series of extraordinary encounters involving girlfriends, family history and the intoxicating cult of celebrity begin to reveal that there's a whole lot more at stake than just money.
Weaving a breathtaking, contemporary score around a dazzlingly witty portrait of the price of fame, EXPOSURE THE MUSICAL is an electrifying and brilliantly original new musical that will capture your heart…and just maybe your soul. It is produced by Camera Theatre Productions Ltd.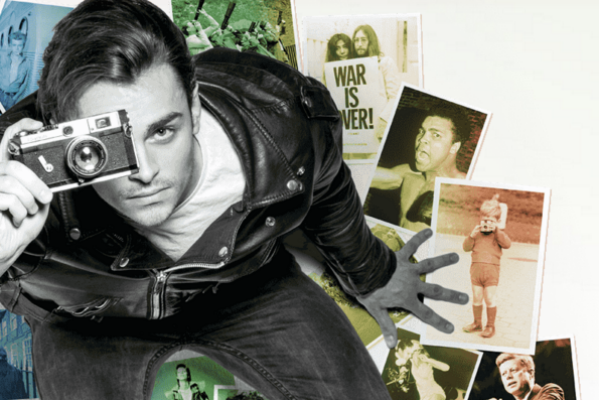 Bios
David Albury's (Jimmy) stage credits include Only The Brave at the Wales Millennium Centre, The Lion, The Witch and The Wardrobe at Birmingham Rep, You Won't Succeed on Broadway if You Don't Have Any Jews at the St. James Theatre & Tel Aviv, Love Story at the Union Theatre, Porgy and Bess at Regent's Park Open Air Theatre, Bare at Greenwich Theatre and The Lion King on UK Tour.
Natalie Anderson (Tara) is best known as series regular Alicia in Emmerdale and from a regular fashion presenting slot on ITV's This Morning. Natalie was last on stage in Wicked at the Apollo Victoria Theatre and her other screen credits include Nurse Stella Davenport in The Royal (series regular – ITV), Francesca in The Biz, Alex Corby in Dalziel and Pascoe, Justine Lake in Holby City, Joanne in Wire in the Blood, Ewa in Freight and Your Face Sounds Familiar.
Michael Greco (Miles Mason) is most recognized for playing Beppe Di Marco in EastEnders. Michael's stage credits include All's Well That Ends Well on UK Tour, Don Juan at Battersea Arts Centre, Much Ado About Nothing at Southwark Playhouse, Biloxi Blues at Salisbury Playhouse and a guest star run as Billy Flynn in Chicago's original West End production. Michael's other screen credits include Chasing Shadows, Revenge, Bill Staton in Hatfields and McCoys, NIL, The Meeting, Fat Slags, Golden Hour, Murder in Mind, Faith In Future and Doctors.
Kurt Kansley's (Jimmy's Father/Envy/Ensemble) stage credits include Hair at Al Hirschfeld Theatre, The Lion King in Australia/West End, Rock Around the Clock on a UK Tour, The 12 Tenors on a UK Tour, Hair at the Piccadilly Theatre, Miss Saigon at the Prince Edward Theatre, Ragtime at the The Landor, A Midsummer Night's Dream at the Open Air Theatre, Regents Park, The Love-Girl and the Innocent at Southwark Playhouse and Sweet Bird of Youth at The Old Vic.
Niamh Perry's (Pandora) stage credits include Mamma Mia! on an international Tour and at the Prince of Wales Theatre, The Beautiful Game at The Union Theatre, Sweeney Todd at the Manchester Royal Exchange/West Yorkshire Playhouse, The Little Prince at the Lyric Theatre, Belfast, Love Never Dies at the Adelphi Theatre, A Song Cycle For Soho at Soho Theatre and Only The Brave at the Edinburgh Fringe Festival. Niamh's screen credits include I'd Do Anything, Frankenstein's Wedding and Out Of The Blue.
Jahrel Thomas' (Aid Worker, Gluttony, Ensemble) stage credits include The Lion King at the Lyceum Theatre, and Fame at the Wyvern Theatre/Alexandra Theatre. Jahrel's screen credits include Got to Dance.
Mike Dyer (Book, Lyrics & Music) has extensive experience in the music industry both as a performer and writer. He has toured the world as a singer with his own bands Tokyo and Rhode Island Red, performing with world class acts including Thin Lizzy, Iron Maiden, Bon Jovi, Red Hot Chilli Peppers and Black Sabbath. As a writer he has worked with star names including Diana Ross, Huey Lewis and Eric Clapton. He played the Narrator in the multi-award winning musical Blood Brothers, with further stage work including Jesus Christ Superstar (Pilate/Caiaphas) and Notre Dame de Paris (Frollo/ Quasimodo). Mike is also known for playing Casey Hogan, in EastEnders.
Phil Willmott (Director/Dramaturg) is a multi-award winning director, artistic director, playwright, composer, librettist, teacher, dramaturg, arts journalist and actor. He has worked in theatres across the world on everything from classical drama, musicals and family shows to cabaret and cutting edge new writing including notable productions at Liverpool Everyman and Playhouse, Sheffield Crucible, The National Theatre Studio, Nottingham Playhouse, in the West End and for ten years as an associate artist at B.A.C. He is Artistic Director of his own multi award winning theatre company The Steam Industry (incorporating The Finborough Theatre and The Scoop amphitheatre on the South Bank) and also works as a broadcaster, arts journalist, playwright, lyricist and composer. He's been a recipient of a Peter Brook award for innovation and entertaining theatre for his classical and family shows, a UK Theatre Award for outstanding musical production, WhatsOnStage award nominations for best regional and Off West End productions, a Brooks Atkinson/Royal Court award in New York for playwriting and 4 Spirit of Broadway Awards.