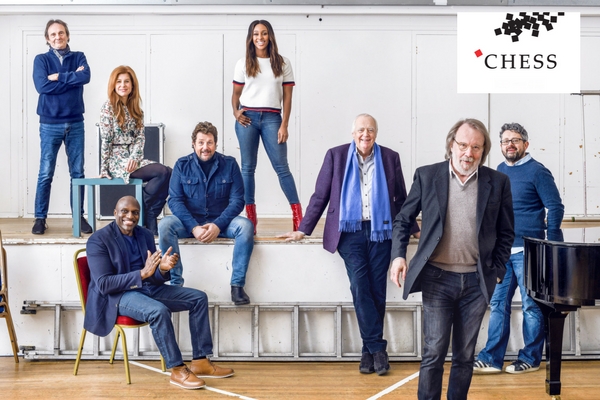 Full cast details have been revealed for the star-studded London revival of Chess at the London Coliseum, the first West End production since 1986 – plus there's a new rehearsal photo featuring the cast and creative team…
Already cast were Michael Ball as Anatoly, Alexandra Burke as Svetlana, Murray Head as The Arbiter, Tim Howar as Freddie, Cassidy Janson as Florence and Philip Browne as Molokov.The musical love story opens on 26 April 2018 (press night is 1 May) for a five-week season.
The cast also includes Sabrina Aloueche, Robin Bailey, Sarah Bakker, Jeremy Batt, Kimberley Blake, Sophie Camble, Cellen Chugg Jones, Jordan Lee Davies, Jonathan David Dudley, Richard Emerson, Callum Evans, Chris Gage, Matt Harrop, Jack Horner, Stevie Hutchinson, Nicholas Allan Li, Sinead Long, Robbie McMillan, Jo Morris, Jennifer Robinson, Jo Servi, Alexandra Waite-Roberts, Carrie Willis, Stuart Winter, Chris Gardner, Matthew Walker and Joe Watkins.
Written in 1984 by ABBA songwriters Benny Andersson and Björn Ulvaeus, and Tim Rice (Jesus Christ Superstar, The Lion King, Evita), the original London production of Chess starred Elaine Paige, Murray Head and Tommy Korberg and ran for three years at the Prince Edward Theatre. The highly successful recording, featuring the same stars, included the international hit singles 'I Know Him So Well' and 'One Night In Bangkok'.
Directed by Laurence Connor (School of Rock, Miss Saigon, Les Misérables), the new staging will feature English National Opera's Orchestra and Chorus, conducted by John Rigby with choreography by Stephen Mear.
This is the fourth production in collaboration with English National Opera by Michael Linnit and Michael Grade, who brought Sunset Boulevard, Carousel and Sweeney Todd to the London Coliseum.