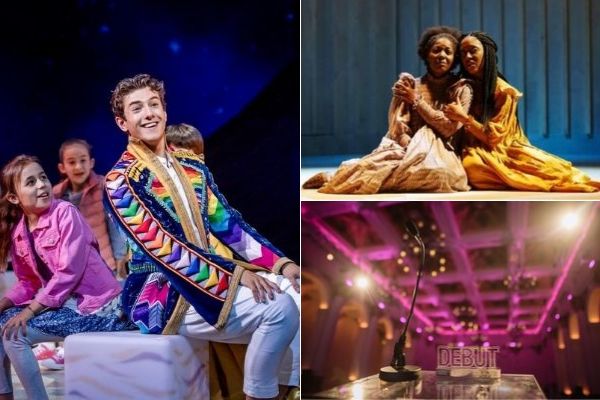 Jac Yarrow's performance in the title role in Joseph and the Amazing Technicolor Dreamcoat at the London Palladium was obviously a big hit with audiences as it was the public who crowned him the winner of the Joe Allen Best West End Debut Award at the 2019 The Stage Debut Awards. Maybe dreams really do come true.
Fresh out of drama school, this was Jac Yarrow's full professional debut, triumphing over Hollywood star Matthew Broderick, On Your Feet! star Christie Prades and The Inheritance's Andrew Burnap and Samuel H Levine.
Actors and creatives were recognised for productions large and small across the UK. Winners taking home awards this year included Felix Hagan, Natasha Hodgson and Zoe Roberts of SpitLip for composing the madcap parody Operation Mincemeat at London's New Diorama in London and Danielle Fiamanya was a popular choice as Best Actress in a Musical for her performance in a supporting role in The Color Purple at Curve, Leicester and Birmingham Hippodrome.
Alistair Smith, editor of The Stage, said:
"Congratulations to all our supremely talented winners. This is our third Debut Awards and I'm delighted to say that they are now firmly established in the industry calendar. British theatre's support for the awards and our winners has been phenomenal. We're delighted to see previous winners and nominees going on to even bigger and better things – whether starring in the West End, being nominated for Olivier awards or even taking over the running of theatres."
The Stage Debut Awards recognise outstanding emerging talent from actors and directors to designers, writers, composers and lyricists, all of whom have made their professional debuts in the past year.
THE STAGE DEBUT AWARDS 2019: Musical Theatre Winners
Best Actress in a Musical – Sponsored by Really Useful Group
Danielle Fiamanya for The Color Purple at Curve, Leicester and Birmingham Hippodrome
Best Actor in a Musical – Sponsored by Encore Radio
Adam Hugill for Standing at the Sky's Edge at the Crucible Theatre, Sheffield
Best Composer or Lyricist – Sponsored by Trafalgar Entertainment Group
David Cumming, Felix Hagan, Natasha Hodgson and Zoe Roberts for Operation Mincemeat at the New Diorama Theatre, London
The Joe Allen Best West End Debut
Jac Yarrow for Joseph and the Amazing Technicolor Dreamcoat at the London Palladium