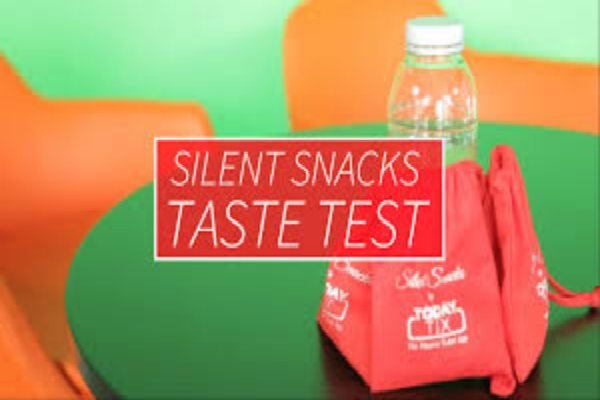 Will the new Silent Snacks project be an answer to the rustle of crisp packets and the slurping of drinks? Musical Theatre Appreciation Society's Willy Mukendi-Wood tries them out...
With growing interest about the new 'Silent Snacks' project, I thought I would spontaneously book last minute tickets to see In the Heights at the King's Cross Theatre, bringing the number of times I have seen this show up to 17. However I attended also to support the new cast.
I think it's only right I first share a quick thought about the show itself from the Musical Theatre Appreciation Society twitter account:
So with the new cast I bet some of you were wondering is @InTheHeightsLDN in safe ends? The answer quite simply is pic.twitter.com/4JlEZuch0e
Before entering the theatre venue, I managed to bump into two ticket representatives from TodayTix, who were both incredibly friendly and ready to divulge more information about their new 'Silent Snacks' project.
So, in case you've never heard of this, I will quickly catch you up. The 'Silent Snacks' project, headed by TodayTix, is the much needed answer to incredibly loud eaters at the theatre - it offers quietly chewed soft treats and drinks without gas to minimise loud noises. The reps were kind enough to allow me to rummage through the products myself and I learned that all of their food and drinks range come in personalised packaging, a soft material almost like a personalised purse of treats, that also minimise any rustling. All of this allows us so to indulge in those quiet theatre moments that nobody can disturb, such as that moment of silence in The Lion King after Simba sees his father, Mufasa, die (spoiler alert).
The new products are sold at £2 each, customers preorder the snacks directly from our app along with their tickets, the price is added on with the ticket purchase and all can be collected on the night from the reps.
Now before you all rush off and preorder yourself (and me also) a drink for telling you about these new products – TodayTix were using this project as a one week only trial to see the results. During our discussion they managed to reveal that they were happy with the results, as were the customers buying them. I unfortunately never did get the chance to try their snacks, but would like to see this project go far. However I do feel a bigger range in foods and drinks will encourage further interest. The trialled products that you would have been able to purchase are:
From top left going clockwise: Silent Pear Slices; Quiet (Pop)corn Bites; Anti-Gas Lime and Mint drink; Muffled Truffles
I am not suggesting theatres in general offer a huge snack menu - one thing most of us canguarantee about the theatre is that you can pick up a packet of the most expensive Minstrels. But to compete with a readily established food market 'Silent Snacks' may need to expand on the choices available, perhaps starting with a bigger range of the anti-gas drinks.
There are some other questions I would like answered, mainly in regards to how the process will work should it continue.
Will this new silent snacks menu serve as an additional choice at theatres or as a direct replacement?
Whilst the project is small, pre-ordering and having representatives give it to you on arrival seems feasible. But what happens should the project expand? Will there be carts of preordered muffle truffles waiting outside the theatre?
Should the project be executed with a pre-ordering policy, will every theatre have to have a TodayTix stand?
Speaking to the TodayTix team made me realise just how much of an annoyance noisy eaters are to theatre goers. They let us in on some crazy anecdotes, including a story of a man who actually brought a pizza to the theatre - a gentlemen convinced himself it was okay to bring a hot, just cooked, straight out of the oven pizza to the theatre. Naturally he was told he couldn't bring it in, but he actually returned and collected his cold pizza hours after the show had ended.