Casting has been announced for SAN DOMINO, a new British musical exploring Benito Mussolini's persecution of homosexuals during the Second World War, which gets its full-scale premiere at London's Tristan Bates Theatre in June...
San Domino, written by Tim Anfilogoff and Alan Whittaker, runs at London's Tristan Bates Theatre from 5 to 30 June 2018, with a press night on 7 June and a post-show Q&A chaired by Faves founder Terri Paddock after the matinee on Saturday 9 June.
One night in 1939, Carlo, Claudio and their friends are arrested in Catania. Condemned without any trial, they arrive on San Domino: a prison island solely for gay men. For all the indignity and squalor of prison life, men previously forced to live in the shadows now have no need to hide who they are. But whatever kind of life they may be trying to build, in the background war is looming.
The cast of actor-musicians includes several who appeared in a showcase presentation during the 2014 Grimeborn Festival at the Arcola Theatre. The full company are: Hannah Genesius (A Christmas Carol, Barbican Theatre/BBC Radio 4, Much Ado About Nothing, Shakespeare in the Squares, The Great Divide, Finborough); David Gibbons (Seasons of Larson, Lyric Theatre, I'm Getting My Act Together and Taking it on the Road, Jermyn Street Theatre); Callum Hale (The Merry Wives of Windsor, RSC outdoor venue, The Dell); Matthew Hendrickson (San Domino, Arcola, Dickens Abridged, original West End cast of The Reduced Shakespeare Company); Alexander Hulme (Split Ends, Phoenix Arts/Cockpit Theatre, The Last Tycoon, Tabard); Andrew Jardine (The English Heart, Etcetera Theatre, Teeth 'n' Smiles, Stockwell Playhouse); Christopher Laishley (Anyone Can Whistle, The Cherry Orchard, Fear and Misery of the Third Reich, all Union Theatre); Ross McKenna (San Domino is his professional debut); Grant Neal (West End: Chicago, Adelphi, Cambridge and Garrick, Into The Woods, Royal Opera House, Imagine This, New London, Evita, Adelphi, Chitty Chitty Bang Bang, London Palladium); Joe Etherington; Roger Parkins (Next Time I'll Sing To You, Orange Tree, The Glass Protege, Park Theatre, Soggy Brass, Southwark Playhouse); Andrew Pepper (Assassins, Pleasance, London, the Scarecrow in Philip Pullman's The Scarecrow and his Servant, Southwark Playhouse, Mary Poppins, Prince Edward Theatre); Mark Stewart (Dracula, Lion and Unicorn Theatre, Julius Caesar, Saatchi Gallery/ Chelsea Theatre, San Domino, Arcola).
San Domino conjures up "an intimate tragi-comic world of love, loss and the struggle just to survive". In the creative team are librettist and lyricist Tim Anfilogoff, composer Alan Whittaker, director Matthew Gould, musical director and orchestrator James Cleeve, lighting designer Mitchell Reeve and set and costume designer Faye Brad.
San Domino first previewed to an audience at the Courtyard Theatre, then played at Arcola Theatre's Grimeborn Festival in 2014. The writers were inspired by the story of 45 gay men rounded up in Catania one night in 1939. The musical is produced by TKD Productions and M Green Productions.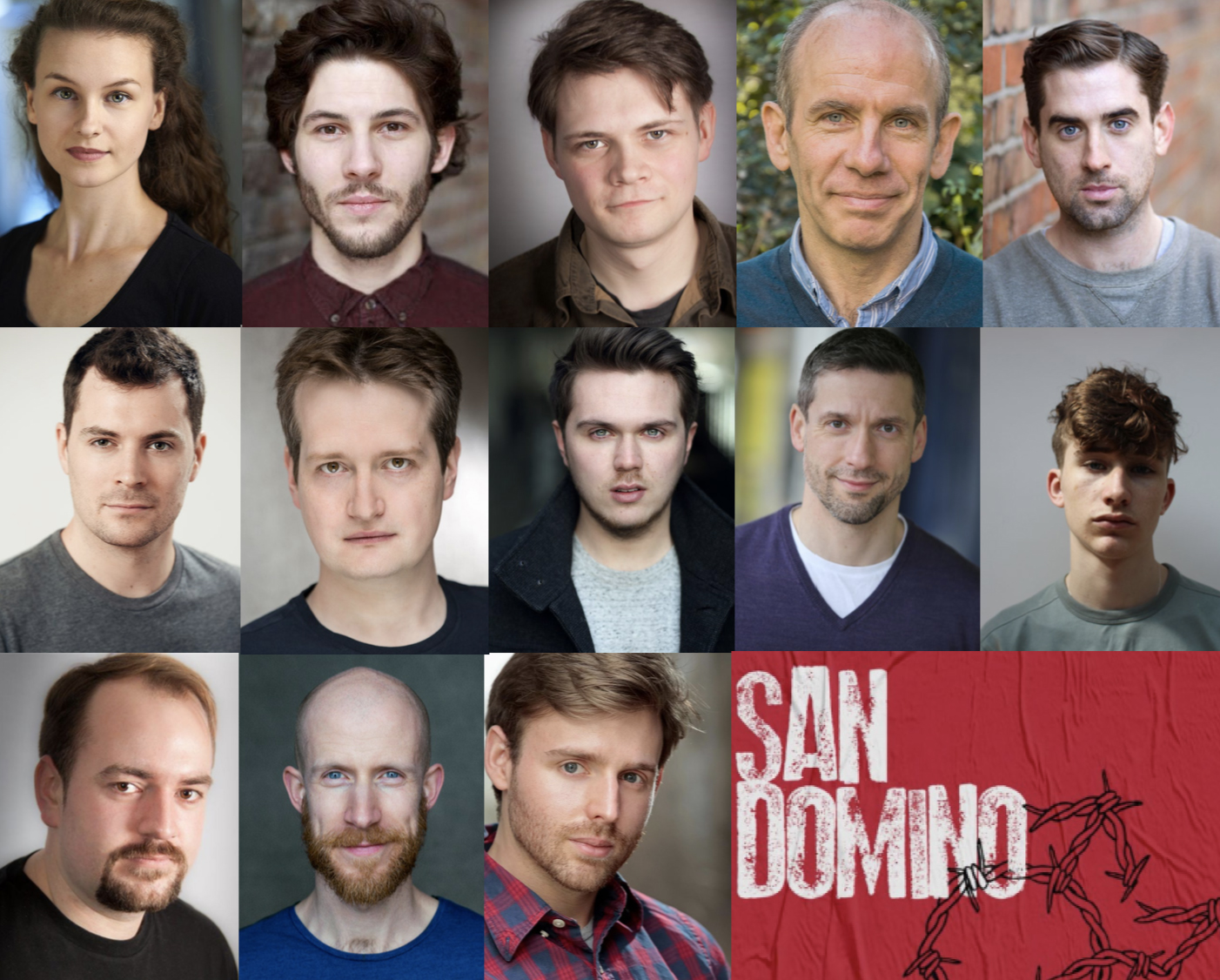 The full cast of San Domino at Tristan Bates Theatre


San Domino previewed at the Arcola's Grimeborn Festival in 2014