How did the late British maverick theatremaker Ken Campbell, leading Canadian improv teacher Alan Marriott and the four Elizabethan humours contribute to the birth of SHOWSTOPPER! The Improvised Musical? In the first of a three-part series, founder Dylan Emery recalls the rollercoaster ride that he and Adam Meggido went on when setting up the troupe 11 years ago... (Have you entered our competition yet?)
To celebrate their 1000th one-of-a-kind performance, SHOWSTOPPER! The Improvised Musical is playing a limited eight-week run season at The Other Palace from 22 January to 16 March 2019, alongside their regular monthly performances in the West End's Lyric Theatre, Shaftesbury Avenue. With eleven years as an Edinburgh Festival must-see phenomenon, a critically acclaimed West End run and the Olivier Award for Best Entertainment and Family Show to their name, The Showstoppers have blazed a trail in world-class improvised musical comedy and delighted audiences across the globe.
Transforming audience suggestions - for setting, musical styles, show title and more - into all-singing, all-dancing productions with hilarious results, The Showstoppers guarantee audiences an entirely different show every single night as each performance is a brand-new musical West End hit waiting to happen.
---

The late, great Ken Campbell (1941-2008) was a big influence on Showstopper!'s birth. How?
When we started with Ken, he was developing a show for Mark Rylance at the Globe in 2005. It was like a gameshow – mashing up the Theatresports format created by impro guru Keith Johnstone with Shakespeare. The cast would compete to improvise the best wounded messenger scene, the most boring lord and so on.
It was very much building on what a certain type of impro was doing, but what Ken brought to it was the ability to whip up a crowd into hysteria through the ridiculousness of the challenges being thrown at the feet of the poor actors. When Theatresports and other types of short-form impro is done, it is often rather genteel. Not with Ken.
So, his first massive addition to the craft was bringing his honed craft for extreme entertainment. A lot of the role of the writer in Showstopper, for instance, comes from Ken – whipping the crowd up – getting them to be emotionally invested in the show. And when something unexpected happens, getting the most out of it.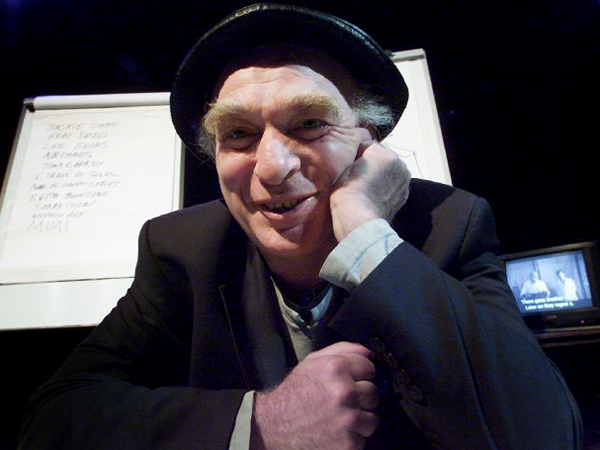 Ken Campbell
The second big thing is that often impro shows are very casual – the cast are in regular clothes, they might be performing in a bar, there is not much opportunity for stagecraft, and as a result, that aspect of it is rarely taught in impro classes. However, Ken was all about that – he taught us how to make an entrance, what the relative points of power are on the stage and in the actors' position on a stage, how and when to upstage another actor, when to downstage them and so on.
This is meat and potatoes to a director, except that a director knows where the scene is going and so can block to enhance, foreshadow or purposely undercut that. An improviser doesn't know where the scene is going so you have to make bold choices that *look* as though a great director has orchestrated it – and then trust that you will make sense of it by the end of the scene.
We have taken that attitude to all the other ingredients of a musical – the choreography, character building, story construction, dialogue, lighting: what would it look like if a brilliant choreographer, playwright, lighting designer, etc., had created this bit? Then let's make it look like that.
It's like my first impro teacher, Alan Marriott said (he's back in London, by the way – take his classes if you can!), if you want to end a scene, don't search for the perfect line – you haven't got time – just say it's like it's a great line and you'll be surprised how often it is.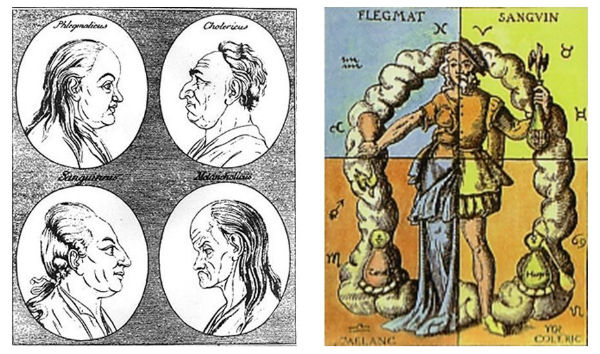 The four Elizabethan humours
How did the first Showstopper! musical emerge?
After the Globe show, I was brought on as the group's musician, and I'd been taught the basics of how to improvise songs by Alan Marriott. Ken, as with any new toy he was given, wanted to push it to the extreme.
He didn't understand why, in a musical, all the characters sing more or less in the same style of music – so we started doing scenes in which characters could sing songs – but each in a different style. We were also doing games that played with the idea of Elizabethan humours – sanguine, choleric, melancholic and phlegmatic.
He would get us to improvise scenes in the style of Shakespeare and then he would shout out different humours, and we'd have to switch our dominant humour (basically, switch our emotional state). It made for really amazing and compelling scenes.
Because we're talking about Ken here, he took it to the next level. He got us to do a musical scene in which each character had a different musical style associated with each humour. So, someone might be improvising a song about how happy they were in the style of Sesame Street – but when the song started becoming sad, the style might transition to a German Lieder or angrily go to Johnny Cash.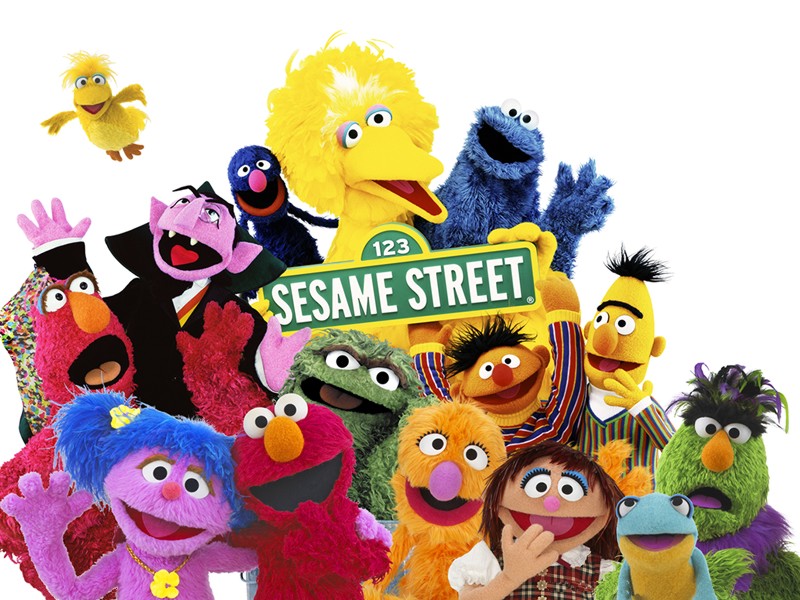 From Sesame Street to Johnny Cash
For our In Pursuit of Cardenio show, I ended up with a list of the eight actors with four different musical styles each taped to the top of my keyboard – guitar nearby and the whole thing was a massively exciting rollercoaster.
We ended up doing more and more music in our shows – and then we did one particular show at the Union Theatre – a Halloween show. Ken decided that the second half would be a dark, Gothic improvised musical. He more or less us just said get on with it and it all came together. It was a spine-chilling tale of a serial killer and it was amazing.
After that, Adam and I had already been talking about doing a project together. The way that Ken ran shows was that he would be the ringmaster in an evening of varied games and scenes. Adam and I were interested in doing something long-form – I was up for doing a full Shakespeare play – but after the Union show, Adam said 'I think we could improvise an entire musical'.
We knew that improvised musicals had been done before – in fact, Alan Marriott had created a very successful improvised musical in the UK in the 1990s. However, neither of us had seen that, or any other improvised musical. We were largely flying blind…
It didn't stop us. We advertised a course in the Actors' Centre – we would train whoever showed up for a full week how to improvise a musical and then we would put on a show at the end. We totally winged it – inventing new exercises, thinking about how you might improvise characters, scenes, choreography and staging. We got Ken to come in and run some sessions, especially on staging, which were incredibly helpful.
Then we did a show at the end of the week at the Tristan Bates Theatre. It might not have been a great musical, but it was certainly excellent entertainment. And so Adam and I started gathering a group of actors and improvisers with the aim of creating a show, which became Showstopper.
Look out for the next in our series with Dylan Emery on Showstopper!'s journey...
---
Enter our competition
We're giving away five pairs of tickets to Showstopper! The Improvised Musical. Deadline is Monday 4 February 2019.