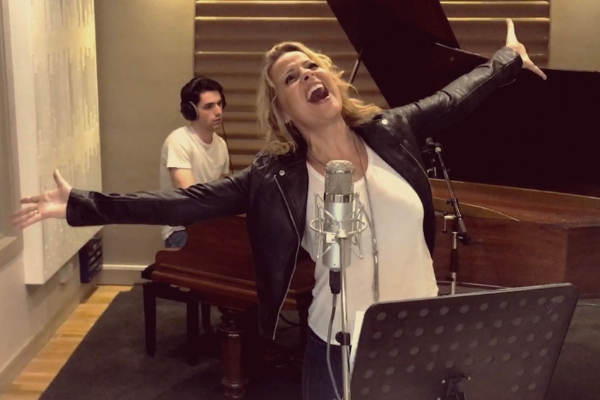 British theatre composer Nick Butcher has released a new video featuring Heathers The Musical actress Rebecca Lock singing his song 'Alive'. The original song is the third video in Nick's YouTube series featuring stars of the West End. The song encourages us "to dare and be brave" so have a listen!
Nick Butcher is a contemporary British theatre composer and actor and he has exclusively revealed today: "I have a big musical project I'm working on." Rebecca Lock is currently playing Ms Flemming in Heathers which has transferred from The Other Palace to London's Theatre Royal Haymarket. Lock will be staring as Lilli/Katharine in Sheffield Crucible's Kiss Me, Kate this Christmas.
Nick says: "London is alight with new musicals this summer. It is great to be part of the movement. When singers like Rebecca step into the recording studio, it's my job to provide the right environment, and then step back and let the rest happen. It's magic to watch."
The composer has a number of projects in development and last month his YouTube series led to him be signed by top creative talent agent Curtis Brown. "The response to my videos has been crazy; I've sent out over 200 copies of my sheet music. They seem to be really popular as audition songs. I do have a big theatre project I'm working on, but I can't talk about that yet. What I can say, is that it's going to be a first for a musical."
Nick is currently appearing in Andrew Lloyd Webber's School of Rock at the newly renamed Gillian Lynne Theatre. His song 'Somewhere In Between' featured in the Stephen Sondheim's Best New Song Category 2018.
Check out StageFaves' awesome vlogger Perry O'Bree's #FirstNightTakeover at the West End gala opening of Heathers The Musical at the Theatre Royal Haymarket right HERE