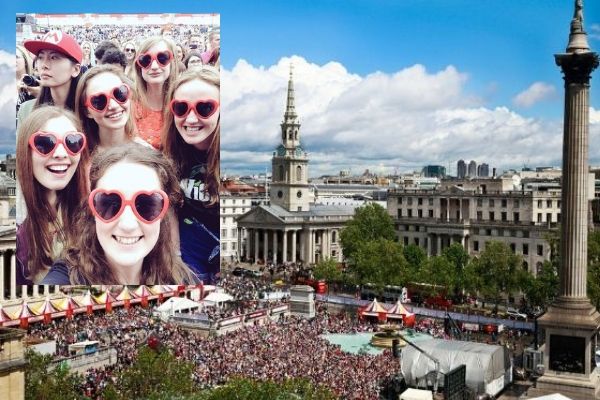 Stagey weekend alert. There's only 'One Day More' until a glorious selection of West End and touring musicals will congregate in one place – London's Trafalgar Square – to entertain in a free event that grows ever popular year after year. So have you planned your tactics for getting the most out of the experience? One Woman West End Show (@OneWomanWEShow) offers Ten Top Tips to boost your enjoyment, whether you are a West End Live first-timer or an old hand. Although the most important thing is obviously to have fun!
With just one day to go, I thought it would be the perfect time to put together my Top Ten Tips for attending West End Live and I hope it helps.
1. If you want to be at the front, get there early
Possibly my most valuable piece of knowledge that I can share with you is getting there early to avoid disappointment. The gates open at 10.15am and 10.30am, with the first performance at 11am, but crowds will start to turn up hours before.
For my first time at West End Live I left home at 6am to get to the queue. I was pretty much at the front and had the best time, so avoid disappointment, know what time you want to get there for and make it happen. Be there or be square people!
2. Plan your travel in advance
Along with knowing what time you want to get there and wanting to be in the front, make sure to check your travel so you can make it happen. The last thing you want is to plan to be up at the crack of dawn, to find that you've just missed the first train and the next one isn't for an hour. Set an alarm, look up multiple routes in case there are issues on the day and know which way to go. Anybody have a map?
3. Know which acts you want to see and what times they are on
West End Live has a huge line-up and no one is saying you have to want to watch them all. Have a look at the line-up and plan which ones you want to see. You'll also need breaks for food, drink, a sit down or the toilet, so try to scout out which acts you aren't as fussed about and plan those breaks in. You also don't want to be stood waiting around for your favourite show, so it's best to know what you want to see and when.
When someone tells you to stop talking about how excited you are for #WestEndLIVE pic.twitter.com/HPoDaacrNN

— West End LIVE (@WestEndLIVE) June 18, 2019
4. Food and drink
Trafalgar Square for West End Live DOES let you take your own food and drink with you. I'm not saying to take a full on pizza or big dinner, but a picnic of sorts always goes down well. If you are planning on being in the thick of the crowds, it's unlikely you'll get to sit down, so try to avoid anything that needs cutlery like a pasta salad, and stick to a sandwich.
If you also want to be there for a long time, standing all that time (and getting hugely excited) takes up a lot of energy. Definitely bring some snacks for the day and lots of water to keep hydrated.
5. Prepare for all weather
And by all weather, I mean ALL weather. I'm talking suncream, sunhat and sunglasses, paired with an umbrella and a raincoat. You never know what's going to happen with the weather in Britain and although the forecasts are currently looking pretty good, that could change in a minute.
Keep your fingers crossed for the good weather but always be prepared for what else could happen. If it is good weather, you'll need even more water than normal to stay hydrated and fully enjoy the day. No passing out because of the heat please!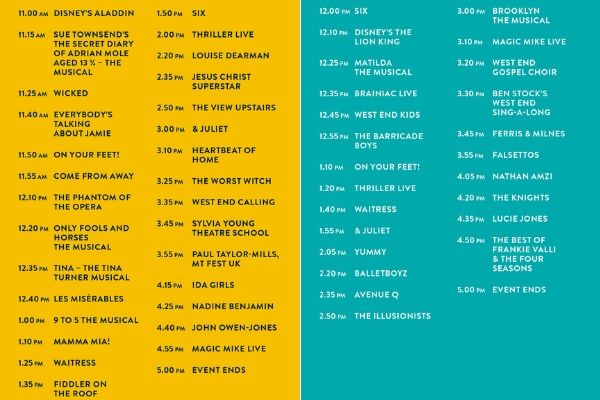 6. Look out for other things going on!
Back in 2015, West End Live also hosted an Oliviers exhibition just down the road in Leicester Square. We got to try on costumes, pose with a fake Olivier bust and see some iconic costumes, designs and sets up close! Joey the horse from War Horse also made an appearance in the crowd, which was pretty amazing to see.
Have a Google at what else is going on, keep your ears and eyes peeled for other activities, and take all leaflets that people give you! You never know what you might stumble across and how much fun you could have!
7. Be friendly and sociable
Get involved on social media before and during the event by tagging WEL (and #StageFaves!) on Facebook, Instagram and Twitter! If you're going to West End Live on your own, or even as a group, see if anyone wants to meet up on social media beforehand, or if there are any big groups being organised that you could join, if you want to.
Make friends on the day with people you are stood near, offer to take someone's picture for them or just start chatting about your favourite shows. Don't forget, most people at West End Live will be there for the same reason you are, so you'll already have lots in common!
8. Electronics and personal belongings
Between taking snaps of yourself and your friends to the acts on stage, tweeting to say what an amazing time you're having and texting mum to say you're okay, your phone battery is going to get low before midday. Make sure to charge it as best you can and bring a portable charger if you have one!
A camera is always a good shout for West End Live too, but make sure to keep it – and the rest of your belongings – safe. With all the excitement as well as big crowds, it can be easy to forget where you've left your camera or your phone, and you only want to leave WEL with amazing memories, not costs for a new phone.
9. Comfortable clothing and shoes
If you want to be in the thick of the crowds at West End Live, you're going to be standing for the majority of the day. You've going to want comfortable clothing, especially shoes, that allow you to do that.
You're also going to want clothing that can accomodate a lot of weather changes. I would definitely recommend a jacket of some sorts and flat shoes – no matter how nice your heels are it's not worth it!
10. HAVE FUN! (but be respectful)
West End Live comes around once a year, and how often do you get to see free theatre in London? Make the most of eery opportunity you can over the two days and have the msot amazing time.
Come rain or shine, have an amazing weekend filled with good memories, good theatre, good pictures and good times. Please ensure that while you're having a good time and cheering for your favourite shows that you are respectful to other West End Live goers like yourself, as well as the casts of the shows, security on the day, and anyone else involved. Have an amazing West End Live weekend and if you see me there, please do say hello! I won't bite!