Mods and would-be mods were fighting over ALL OR NOTHING's vintage 1960s scooter at last night's West End gala for the Small Faces musical as it transferred for an extended West End season at the Ambassadors Theatre. How many chart-topping legends can you spot? Be sure to check out our extensive photo gallery!
Celebrity guests for ALL OR NOTHING - THE MOD MUSICAL's gala on its first night (28 March 2018) at the West End's Ambassadors Theatre including Brian May and Anita Dobson, Antony Costa, Barb Jungr, Gary Kemp, Graham Seed, Kay Burley, Len Goodman, Mari Wilson, Greta Scacchi, Imogen Thomas, Alan Ford, John Challis and Steve Balsamo. Check out full photos from the gala and also the show's latest production shots in the gallery on the show's #StageFaves page.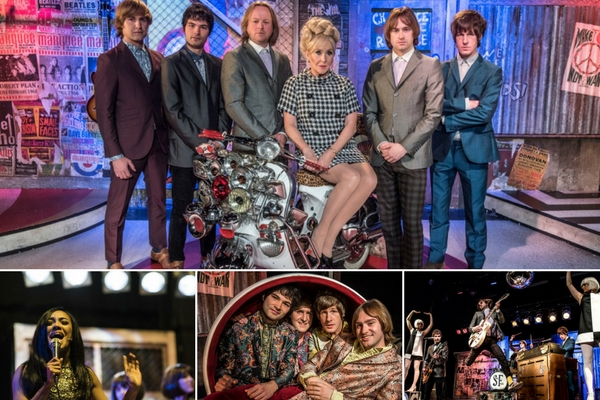 ALL OR NOTHING is now running for ten weeks until 2 June 2018 at the Ambassadors Theatre, transferring directly from a sell-out season around the corner at the Arts Theatre.
The show's creator and director Carol Harrison plays Kay Marriott with Chris Simmons as Steve Marriott alongside Samuel Pope as Young Steve Marriott, Stefan Edwards as Kenney Jones, Stanton Wright as Ronnie Lane, Alexander Gold as Ian McLagan, Karis Anderson as PP Arnold and Russell Floyd as Don Arden. Also in the cast are Danielle Johnson, Daniel Beales, Alfie Harrison-Foreman, Dani Acors and Emily Daniels and, joining anew at the Ambassadors, Mark Newnham as alternate Young Steve Marriott, Rikki Lawton as Jimmy Winston, Tamsin January and Connor Barrister.
ALL OR NOTHING is the story of four charismatic young kids from East London with humour, attitude, passion and, above all, talent. They became the Small Faces and were rocketed into the big time, only to discover the path to success is paved with exploitation, betrayal and, ultimately, tragedy.
In 1965, a new phenomenon erupted out of London's East End. It was the essence of all that was cool. It was Mod. ALL OR NOTHING follows the rise and demise of the Small Faces, the band who encapsulated all that was Mod – a unique blend of taste and testosterone, clothes-obsessed and street-wise – but most of all, a dedication to rhythm 'n' blues. The musical celebrates the unique sound of this iconic Mod band, with all the Small Faces' hits, including Whatcha Gonna Do About It, Tin Soldier, Lazy Sunday, Itchycoo Park and, of course, All or Nothing.