The wait is over! The full cast of Nottingham Playhouse's SWEET CHARITY has been announced. A host of awesome StageFaves will join Olivier-Award winner Rebecca Trehearn in the theatre's first musical since 2006...
The show will play 31 August to 22 September 2018. Press night is 5 September.
Olivier Award winner Rebecca Trehearn will play Charity Hope Valentine, as previously announced, with best friends with Nickie and Helene played respectively by Amy Ellen Richardson and Carly Mercedes Dyer. Charity's love interest Oscar will be played by Marc Elliott.
Also in the cast are Danny Collins (Charlie) and Carl Sanderson (Herman) and Cindy Belliot, Emmanuelle N'zuzi, Sinead Long, Jessica Buckby and Emily Goodenough as Carmen, Frenchy, Rosie, Elaine and Suzanne.
They will be joined on stage by Shaq Taylor, portraying the character of Daddy, Louis Gaunt as Manfred and Leah West as Ursula.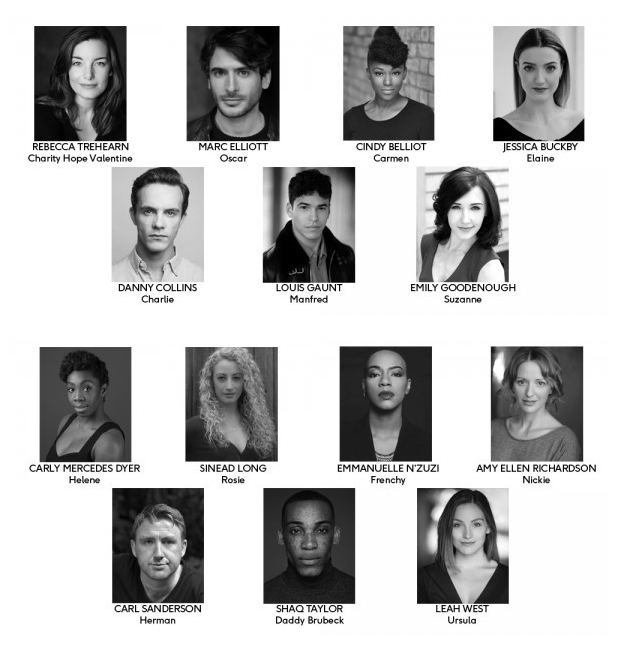 Sweet Charity (by Cy Coleman, Dorothy Fields, Neil Simon) is the first musical to be produced by the Nottingham Playhouse in more than 10 years and forms a key highlight of Adam Penford's first season with the theatre.
Artistic director of Nottingham Playhouse Adam Penford said:
"This story of a spirited, working-class woman who refuses to give up on life and love is life-affirming and perfect for Nottingham Playhouse. I'm thrilled that we're bringing such a talented and prodigious cast and creative team from the West End to the East Midlands. Rebecca is an Olivier Award-winning talent and was born to play Charity.
"Musicals are one of the most popular genres of theatre in this country and we're so proud to be creating a home-grown musical production. The scale of Sweet Charity is enormous and will give our excellent in-house teams a chance to showcase their incredible skills; from costumes and sets, to lighting and sound."
And check out this gorgeous video of Rebecca singing "If They Could See Me Now" from the show, complete with behind the scenes video clips...