Is Gleanne Purcell-Brown your #StageFave? Help grow Gleanne 's fanbase!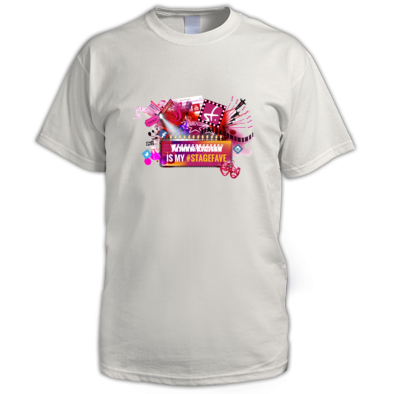 Do you think Gleanne should be a household name? Tell the world. Share this #StageFaves message and you'll be entered into our prize draw to win this "My #StageFave" t-shirt with Gleanne 's name on it!
All our dreams can come true if we have the courage to pursue them!
Gleanne Purcell-Brown is a London-based actress whose musical theatre credits include Curtains, Spamalot, and Bare.
Gleanne Purcell-Brown merchandise shop
Here is some of our great customised merchandise for this performer. Also check out:
our general #StageFaves merchandise in the Main Shop

Open Date: 4 Oct 19 to 4 Apr 20
Part: Ensemble/2nd Bambi/2nd Jessica
Curtains From the Tony Award-winning creators of 'Cabaret' and 'Chicago', this production tells the story of Jessica Cranshaw, star of the new Broadway-bound musical Robbin Hood, who has been murdered on stage on opening night! The entire cast and crew are suspects. Time to call in the local detective, Frank Cioffi, who just happens to be a huge m...

Open Date: 8 Sep 17 to 7 Apr 18
Part: Ensemble
Spamalot Very loosely based on the 1975 film Monty Python and the Holy Grail, Spamalot tells the tale of King Arthur and the Knights of the Round Table and their quest to find the fabled relic. It features a chorus line of dancing nuns (with serfs), ferocious and flatulent Frenchmen, killer rabbits and a legless knight. Join King Arthur as he tr...
Related News and Features