In the 2017 Olivier Awards shortlists, which were announced today, the #StageFaves musicals battling for supremacy include Groundhog Day, Dreamgirls, The Girls, Half a Sixpence, Jesus Christ Superstar, School of Rock and Sunset Boulevard - the last three of which were all composed by Andrew Lloyd Webber...
Today, past winners Denise Gough and Matt Henry announced the nominations for the Olivier Awards 2017 with Mastercard, the most prestigious event in the UK's theatrical calendar. The 2017 awards are set to be the biggest yet, as they make their debut at the Royal Albert Hall on Sunday 9 April.
While Harry Potter and The Cursed Child led the way across all the nominations - receiving a total of 11 nods and thus breaking the record for the most nominated new play in Olivier history - as far as musicals go, the big shortlists headlines are:
Groundhog Day, opening this month on Broadway, receives 8 nominations
As a composer, Andrew Lloyd Webber receives nominations for 3 separate shows (Sunset Boulevard, Jesus Christ Superstar and School Of Rock The Musical)
After 29 years, pantomime's return to its London home, The Palladium, is recognised with nominations for Cinderella (and we're counting that as a musical!)
The casts of The Girls and Our Ladies of Perpetual Succour both receive group nods for acting honours
Groundhog Day at The Old Vic leads the musical categories with eight nominations including for Mastercard Best New Musical. Dreamgirls, School Of Rock The Musical and The Girls are also nominated.
Jesus Christ Superstar, composed by Andrew Lloyd Webber and returning this summer to Regent's Park Open Air Theatre, receives six nominations including Magic Radio Best Musical Revival. Dreamgirls receives five nominations including Best Actress in a Musical for Amber Riley. She competes with the principal cast of The Girls as well as Glenn Close for Sunset Boulevard an Sheridan Smith for Funny Girl.
There's also stiff #StageFaves competition in the other musical acting fields between stars of Dreamgirls, The Girls, Groundhog Day, Jesus Christ Superstar and other musical productions.
Meanwhile, Our Ladies of Perpetual Succour - classified by the Oliviers as a play, but now billing itself as a musical ahead of its West End transfer this year - is nominated for Best New Comedy while eight of its young female cast share a nod for Best Actress in a Supporting Role.
Final scores on the doors for overall nominations tallies for the musicals in the 2017 Olivier Awards are:
Groundhog Day (8)
Jesus Christ Superstar (6)
Dreamgirls (5)
Half a Sixpence (3)
School of Rock (3)
The Girls (3)
Cinderella (2)
Funny Girl (2)
Show Boat (2)
Sunset Boulevard (2)
Our Ladies of Perpetual Succour (2)
Aladdin (1)
Murder Ballad (1)
The Threepenny Opera (1)


---
Musicals in the 2017 Olivier Awards shortlists
Best Actor in a Supporting Role in a Musical
Ian Bartholomew for Half A Sixpence at Noël Coward Theatre
Adam J Bernard for Dreamgirls at Savoy Theatre
Ben Hunter for The Girls at Phoenix Theatre
Andrew Langtree for Groundhog Day at The Old Vic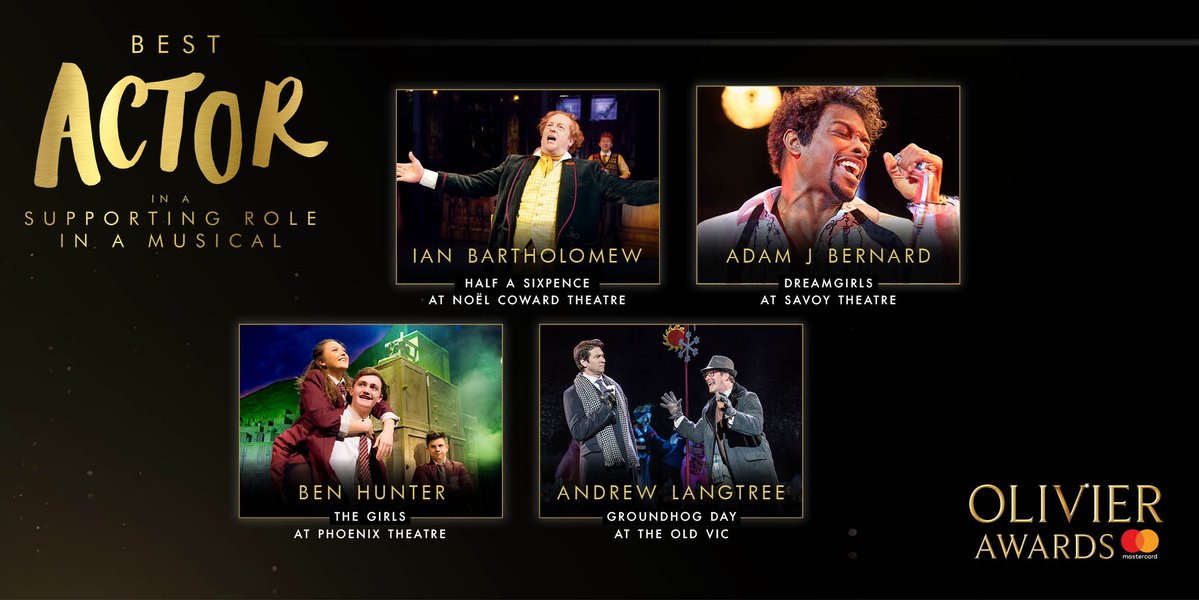 Best Actress in a Supporting Role in a Musical
Haydn Gwynne for The Threepenny Opera at National Theatre – Olivier
Victoria Hamilton-Barritt for Murder Ballad at Arts Theatre
Rebecca Trehearn for Show Boat at New London Theatre
Emma Williams for Half A Sixpence at Noël Coward Theatre


Outstanding Achievement in Music
Dreamgirls – Music by Henry Krieger at Savoy Theatre
Harry Potter And The Cursed Child – Composer and Arranger: Imogen Heap at Palace Theatre
Jesus Christ Superstar – The band and company creating the gig-like rock vibe of the original concept album of Jesus Christ Superstar at Regent's Park Open Air Theatre
School Of Rock The Musical – Three children's bands who play instruments live every night at New London Theatre
Best Entertainment and Family
Cinderella at London Palladium
David Baddiel – My Family: Not The Sitcom at Vaudeville Theatre
Peter Pan at National Theatre – Olivier
The Red Shoes at Sadler's Wells
Best Theatre Choreographer
Matthew Bourne for The Red Shoes at Sadler's Wells
Peter Darling and Ellen Kane for Groundhog Day at The Old Vic
Steven Hoggett for Harry Potter And The Cursed Child at Palace Theatre
Drew McOnie for Jesus Christ Superstar at Regent's Park Open Air Theatre
Magic Radio Best Musical Revival
Funny Girl at Savoy Theatre
Jesus Christ Superstar at Regent's Park Open Air Theatre
Show Boat at New London Theatre
Sunset Boulevard at London Coliseum
Best Actor in a Musical
David Fynn for School Of Rock The Musical at New London Theatre
Tyrone Huntley for Jesus Christ Superstar at Regent's Park Open Air Theatre
Andy Karl for Groundhog Day at The Old Vic
Charlie Stemp for Half A Sixpence at Noël Coward Theatre



Best Actress in a Musical
Glenn Close for Sunset Boulevard at London Coliseum
"The Girls" – Debbie Chazen, Sophie-Louise Dann, Michele Dotrice, Claire Machin, Claire Moore and Joanna Riding – for The Girls at Phoenix Theatre
Amber Riley for Dreamgirls at Savoy Theatre
Sheridan Smith for Funny Girl at Savoy Theatre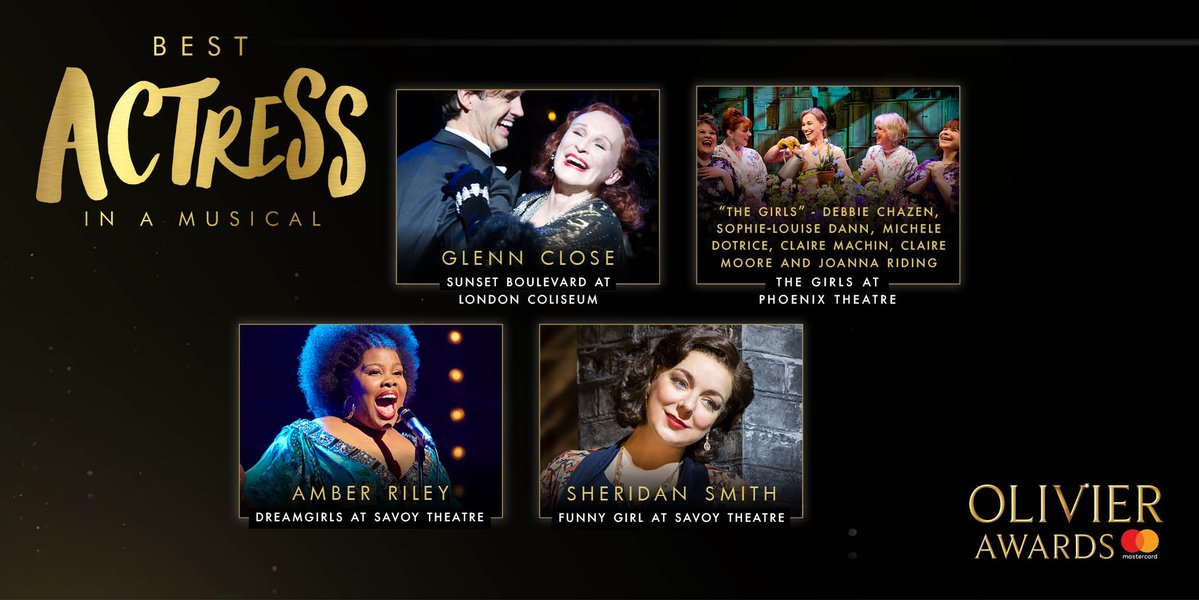 Best New Comedy
The Comedy About A Bank Robbery at Criterion Theatre
Nice Fish at Harold Pinter Theatre
Our Ladies Of Perpetual Succour at National Theatre – Dorfman
The Truth at Wyndham's Theatre
White Light Award for Best Lighting Design
Neil Austin for Harry Potter And The Cursed Child at Palace Theatre
Lee Curran for Jesus Christ Superstar at Regent's Park Open Air Theatre
Natasha Katz for The Glass Menagerie at Duke of York's Theatre
Hugh Vanstone for Groundhog Day at The Old Vic
Best Sound Design
Paul Arditti for Amadeus at National Theatre – Olivier
Adam Cork for Travesties at Apollo Theatre
Gareth Fry for Harry Potter And The Cursed Child at Palace Theatre
Nick Lidster for Autograph for Jesus Christ Superstar at Regent's Park Open Air Theatre
Best Costume Design
Gregg Barnes for Dreamgirls at Savoy Theatre
Hugh Durrant for Cinderella at London Palladium
Rob Howell for Groundhog Day at The Old Vic
Katrina Lindsay for Harry Potter And The Cursed Child at Palace Theatre
Blue-i Theatre Technology Award for Best Set Design
Bob Crowley for Disney's Aladdin at Prince Edward Theatre
Bob Crowley for The Glass Menagerie at Duke of York's Theatre
Rob Howell for Groundhog Day at The Old Vic
Christine Jones for Harry Potter And The Cursed Child at Palace Theatre
Best Director
Simon Stone for Yerma at Young Vic
John Tiffany for Harry Potter And The Cursed Child at Palace Theatre
John Tiffany for The Glass Menagerie at Duke of York's Theatre
Matthew Warchus for Groundhog Day at The Old Vic
Mastercard Best New Musical
Dreamgirls at Savoy Theatre
The Girls at Phoenix Theatre
Groundhog Day at The Old Vic
School Of Rock The Musical at New London Theatre
Mastercard Best New Musical nominees: @DreamgirlsLDN, @thegirlsmusical, @GhDMusical and @SchoolOfRockUK #OlivierAwards pic.twitter.com/D6706rK3kn

— MastercardUK (@MastercardUK) March 6, 2017