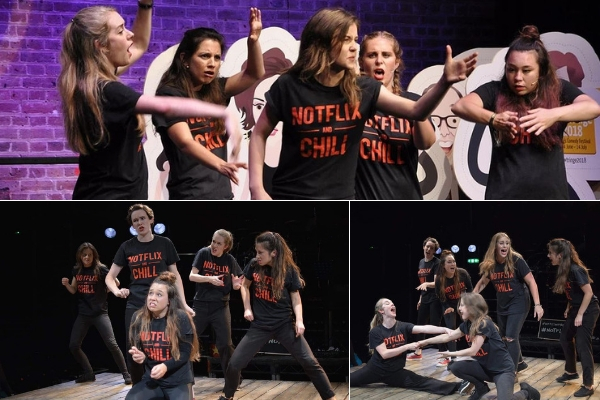 A soulful The Shining? An a cappella Avengers? A Sondheim-esque Stand By Me? We don't know the shows being created in these images of Notflix, but they look awesome. Have a peek for yourselves, then book your tickets!
The hit musical improv show, which features a host of the UK's best female improvisers and a live band, runs at VAULT Festival from 6 to 10 March 2019.
The entirely improvised comedy musical is based on an audience suggestion of a favourite movie. Using the location, key scenes and characters as a jumping off point, the band of talented, quick-thinking performers create a brand new narrative. All the scenes, songs and vocals are improvised spontaneously by the cast and live band with absolutely no preparation or planning. Because it's improvised, every show is completely different; what remains the same is a joy-filled, high camp, musical celebration of everything you wish a movie could be.
Notflix previously sold out its 2017 runs at the Vault Festival. It's a patterns they've repeated elsewhere, as they also sol out the 2017 Brighton Fringe and the 2016 & 2017 Edinburgh Fringe Festival.
They have also collected a host of fantastic reviews. Broadway Baby gave their Edinburgh performance five stars and described them as "Roaringly funny and incredibly talented young women," Fringe Biscuit gave them four stars, describing the show as "Spontaneous, surprising and delightful," while The Live Review described the show as "Flawless."
The Notflix cast features a plethora of talented female performers including Holly Mallett, Aisling Groves-Mckeown, Clare Buckingham, Ailis Duff, Emma Read and Vicky Hitchin. They are directed by Sarah Spencer.
Take a look at these awesome images from the show: