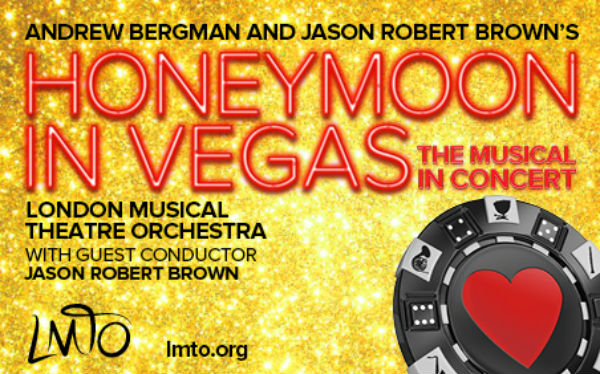 Sarah Jessica Parker and Nicholas Cage, eat your hearts out. #StageFaves Samantha Barks and Arthur Darvill will be taking their HONEYMOON IN VEGAS in the UK premiere of the screen-to-stage musical, which plays in concert for one night only at the West End's London Palladium care of the London Musical Theatre Orchestra...
After the resounding success of last year's concert presentations of Rodgers & Hammerstein's State Fair (Cadogan Hall, November 2016) and Alan Menken and Lynn Ahrens' A Christmas Carol (Lyceum Theatre, December 2016), The London Musical Theatre Orchestra is delighted to announce the initial casting for its first concert of the 2017 season, the hit Broadway musical Honeymoon in Vegas.
Samantha Barks is to take on the role of Betsy and Arthur Darvill will play Jack, with full casting to be announced in the coming weeks. The fully orchestrated concert, which will be guest conducted by its composer Jason Robert Brown, marks Honeymoon in Vegas' UK premiere. It plays for one night only at the West End's London Palladium on Sunday 12 March 2017.
Based on the hit 1992 film starring Sarah Jessica Parker, and Nicholas Cage, Honeymoon in Vegas tells the story of mild-mannered Brooklynite, Jack, who haunted by the fear of a promise to his dying mother never to get married, avoids proposing to his new girlfriend Betsy. He finally summons the nerve and takes Betsy to Las Vegas only to have his plans compromised by a dashing gambler with an eye for luxury and Jack's new fiancée.
The New York Times called the Broadway production "[a] bright and bouncy…real-live, old-fashioned, deeply satisfying Broadway musical in a way few new shows are anymore."
Honeymoon in Vegas has a book by Andrew Bergman and score by Tony-Award winning Jason Robert Brown (Parade, Songs For A New World, The Last Five Years and The Bridges of Madison County). The musical had its Broadway premiere in 2015 at New York's Nederlander Theatre. This concert – in which the cast will be joined by the 30-strong London Musical Theatre Orchestra – will see it performed in London for the very first time.
Jason Robert Brown commented:
"Honeymoon in Vegas is the show I always aspired to write. All of these sounds – the swing, the samba, the disco, the boogie, the rock'n'roll – make up what I hear in my head when I think of what a 'Broadway musical' should be. I'm so gratified to have actually written it, and thrilled to get a chance – finally! – to present it in London. And to know that the music will be brought to life by the sterling musicians of the LMTO and a glorious cast is such a delight and a privilege. I've had so many sensational experiences in the British theater that it feels like coming home. I cannot wait to get started!"