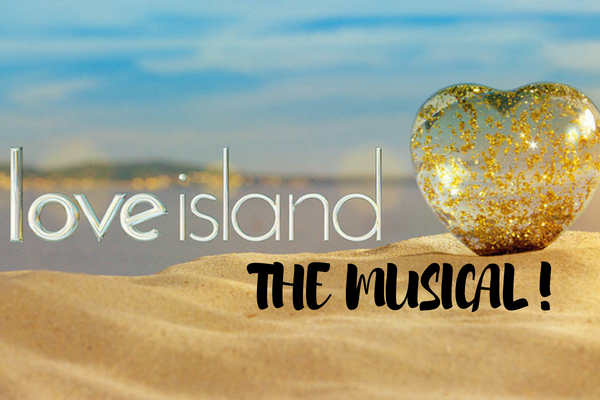 With CLUB TROPICANA the musical soon to tour the UK, and an ex-Dreamgirls cast member Samira Mighty starring on the ITV2 show, it seems that Love Island and the theatre world are being inescapably drawn together.
Since what Britain needs at this time of political turmoil is definitely another parody musical and while we love the likes of SPAMILTON & TRUMP THE MUSICAL... we've put together our very own pitch to inspire playwrights, producers and those who have yet to decide! It includes all the most popular stagey trends. We're fully expecting to see this one on the Fringe circuit next year, fingers crossed it goes to the Edinburgh Fringe. Here are some creative ideas I had about bringing the Island to the stage.
What is the point of theatre nowadays if it isn't immersive? It's time musicals cashed in on the trend, despite the recent thwarting of Bjorn-from-ABBA's plan to bring a MAMMA MIA! restaurant to Waterloo. Taking inspiration from Witness For the Prosecution, the Bridge's Julius Caesar, and countless Secret Cinema events, the audience of Love Island: The Musical would enter a re-creation of the villa to watch the show. As such, they can expect to be immediately separated by gender. They will then be forced to couple up with a stranger of the opposite sex, with whom they will have to share a double bed for the remainder of the performance!
'My Type on Paper', a physical theatre number, will integrate verbatim descriptions of cast members' 'types' ranging from "blonde, blue eyes" to "peng sort".
There are so many opportunities for dramatic power duets in this musical; we suggest 'It's Only Been Three Days' and the classic 'I Think I'm Falling For You'.
In order to be truly innovative and celebrate the 'liveness' of theatre, cast members and audience members will have the chance to vote off actors in frequent 'recouplings'. There will be 14,097 possible endings to the drama based on who is dumped each time. SHOWSTOPPER: THE IMPROVISED MUSICAL – sit back and watch!
A tortured solo, 'Where's My Head At?', co-written by Andrew Lloyd Webber will be sung plaintively by a sobbing girl in a bikini as the 11 o'clock number.
The opening song, 'I Got a Text' will reoccur as a refrain throughout the performance, each time the action gets a bit boring. It will include a hip-hop section, rapped by the Scottish voiceover comedian… HAMILTON hasn't got anything on these islanders.
In a tribute to Mozart's The Marriage of Figaro and Tallis' 'Spem in Alium', the first act closing number 'You Know What I Mean…?' will see each of the 12 members of the villa joining in with their own separate melody describing the plights of their love lives, as they build to a crescendo with a rousing chorus of 'Mugged Off'.
Make sure to credit us, future producers!