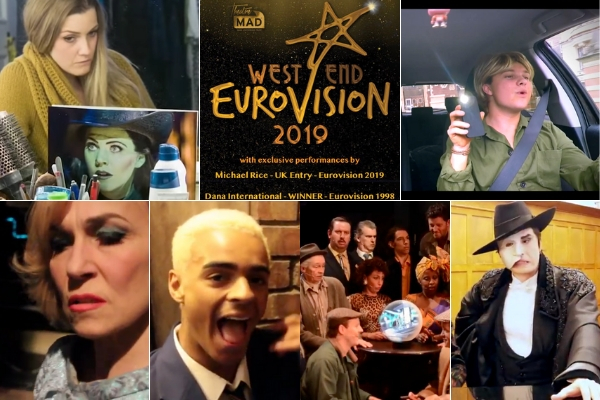 The battle is on for your votes in the run up to West End Eurovision 2019 including 'The Best ident Movie'. From previous winner The Phantom of the Opera to new kid on the block Only Fools and Horses – The Musical, #StageFaves has brought together several of the video contenders to help you make up your mind.
Ahead of the 64th annual Eurovision Song Contest in Tel Aviv, the casts of seven West End shows will wage battle at West End Eurovision 2019 at the Adelphi Theatre on Sunday 28 April 2019.
Giving their all to lift four coveted West End Eurovision 2019 trophies – The Champions, The Best Ident Movie, The Best Creative and the new award for this year Outstanding Gorgeousness – will be the casts of Aladdin, Everybody's Talking About Jamie, Follies, Mamma Mia, Only Fools and Horses, The Phantom of the Opera (last year's winners) and Wicked. Singing original Eurovision Song Contest songs, they will compete to win text votes from the theatre audience and the approval of a panel of celebrity judges and judges from each competing show.
This feel-good, edge-of-your-seat-exciting and interactive charity event will once again raise much-needed funds for the work of MAD Trust. The Trust works with its partners to support those living with or affected by HIV and AIDS both in the UK and Sub-Saharan Africa
Glamorous Eurovision winner Dana International and this year's UK Eurovision entry, Michael Rice, have been confirmed as special guest performers. Dana International will perform 'DIVA', the song that took the crown for her in Birmingham in 1998, and Rice will be performing the UK entry, 'Bigger Than Us'.