Is Georgina Castle your #StageFave? Help grow Georgina's fanbase!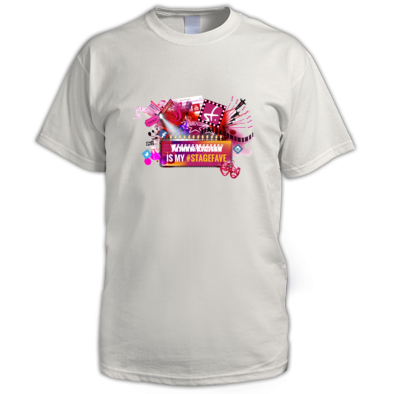 Do you think Georgina should be a household name? Tell the world. Share this #StageFaves message and you'll be entered into our prize draw to win this "My #StageFave" t-shirt with Georgina's name on it!
Actress | Singer | Model.
Georgina Castle is a London based actress and singer. Her musical theatre credits include Mamma Mia and Dirty Dancing.
Georgina Castle merchandise shop
Here is some of our great customised merchandise for this performer. Also check out:
our general #StageFaves merchandise in the Main Shop
Open Date: 21 Sep 99
Part: Ensemble (13 Jun 2016 to 10 Jun 2017)
A mother. A daughter. Three possible dads. And an unforgettable trip down the aisle.Writer Catherine Johnson's sunny, funny tale, directed by Phyllida Lloyd, unfolds on a Greek island paradise. On the eve of her wedding, a daughter's quest to discover the identity of her father brings three men from her mother's past back to the island they last vi...

Open Date: 24 Jun 17 to 25 Jun 17
About West End LIVE Celebrating its 13th year in 2017, West End LIVE is a free, two-day musical extravaganza showcasing the best of West End theatre. It regularly attracts more than 500,000 people to watch live performances from dozens of West End musicals over the course of the weekend and is the largest event of its type in the world. West End ...
Related News and Features
09
May
2017
---

My my, what a lot of talent in one show! The full cast of MAMMA MIA! at the Novello Theatre has been announced and it includes a host of great #StageFaves. The new cast, some of whom have already been announced, will join the production from 12 June 2017. How could we resist going to see them?
07
Apr
2017
---

Donna and the Dynamos are still going strong with Sara Poyzer leading the group from 18 June, along with several other changes to the West End cast of MAMMA MIA!. The show celebrates its 18th birthday this month and has just announced another extension taking it well into 2018...