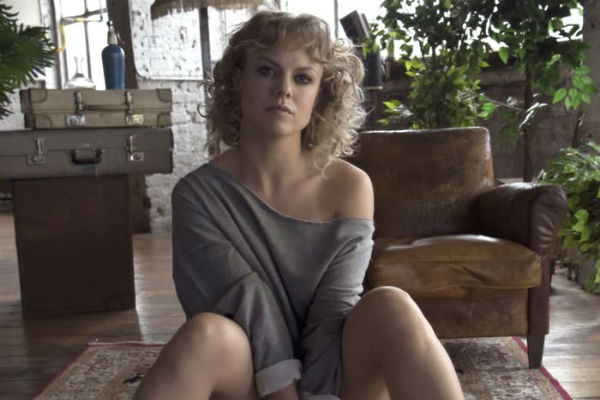 Proving that there's life beyond Strictly, reigning Strictly Come Dancing champion Joanne Clifton has been announced as Alex Owens in a new production of Flashdance – The Musical, co-starring singer-songwriter Ben Adams, which will tour the UK in 2017 and 2018. Flashdance – The Musical returns to the UK for the first time since 2011 and will arrive at Glasgow King's Theatre on 05 August 2017 prior to an extensive UK tour. For full details of tour venues and dates, visit the show's #StageFaves page here.
Joanne made her musical theatre debut in the role of Streetwalker in the UK premiere of the Irving Berlin musical Face The Music, for which she was nominated for an Off West End Award. She followed this up with a turn as Marilyn Monroe in the Norma Jeane Musical and then tread the boards as Millie Dillmount in the No. 1 UK Tour of Thoroughly Modern Millie for which she garnered rave reviews.
She is now excited to take on her latest starring role as Alex Owens in the UK Tour of Flashdance. Joanne says,
"This is just another dream come true! I think everyone in the world whether dancer or non-dancer, as soon as they hear 'What a Feeling', remember that iconic scene at the end of the film and I'm so incredibly lucky that I get to do that every night in a UK TOUR along with fabulous numbers like "She's a Maniac." I'm over the moon! It's another amazing opportunity in my musical theatre career and I can once again sing and act alongside dancing! I just hope the water's not too cold when it falls on me!'
Ben Adams who will join Joanne on stage as Nick Hurley has been singing and performing since the age of 8. His career started as head chorister at St. Margaret's, Westminster Abbey, singing at royal weddings, touring all over Europe, recording 2 classical albums and frequently singing for the likes of the queen and the pope. At 16, he became the lead singer of the band a1, who racked up 10 million record sales, 2 UK number ones, 5 studio albums and toured throughout the world, winning a Brit award among many others.
When the band split, Ben took to the studio and is now a successful song writer and producer, working with the likes of Robin Thicke, Craig David, JLS, Ward Thomas, Sam Bailey, Boyzone and Alexandra Burke to name but a few. He also reached the final of Celebrity Big Brother, the Norwegian version of Strictly Come Dancing, and Master Chef in Denmark. As well as writing for other artists, he went straight to number 1 in the itunes charts with his classical album titled One Beautiful Mourning. His first solo album 1981 will be launched early 2018.
In 2010, a1 reformed and having successfully completed stadium tours in Asia and 68 sold out arena concerts across Europe, they starred in The Big Reunion on ITV2 and played arenas across the country.  They continue to tour throughout the world.
Ben has also written a brand-new musical called 'EUGENIUS!' Which after a sold-out London Palladium performance, is set to hit the West End stage next year.
Ben says of taking to the stage in Flashdance:
"It's amazing to be part of such an iconic story, and as an 80's child I was brought up on this music so I couldn't be happier playing Nick in the theatre production of Flashdance. Whilst I continue with my own music career and touring with a1, Musical Theatre has always been a real passion of mine, so to be asked to play this role, and to be working with such an amazing cast and crew is a real honour. I look forward to seeing you all out on the road in the coming months"
Additional cast includes: Colin Kiyani, Rikki Chamberlain, Gary Lee Netley, Carol Ball, Sia Dauda, Hollie Ann Lowe, Simeon Beckett, Rhodri Watkins, Demmileigh Foster, Emily Kenwright, Amelia Rose Fielding, Alex Christian, and Matt Concannon
Presented by Selladoor Productions – producers of Footloose, Avenue Q and Little Shop of Horrors and Runaway Entertainment producers of In The Heights, Guys and Dolls and Lazarus, Flashdance – The Musical is not to be missed!
Take your passion and make it happen!