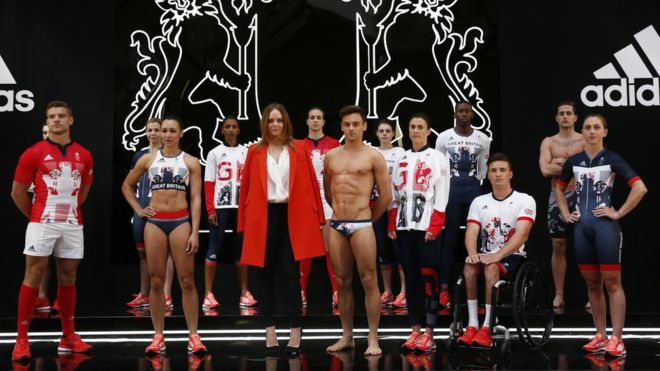 Every four years, we go absolutely wild for sports we know next to nothing about. Fencing? Get it on the telly. Synchronised swimming? Absolutely. Dressage? Bring it. We all love the Olympics and our #StageFaves performers are no exception. We've gathered a few of our favourite Olympics tweets from our performers who've been keeping up with all the action in Rio.
Like Rhiannon Chesterman, who hasn't dreamt of settling down with an elite athlete? We can't see any additional upsides of marrying a gymnast though. No. Definitely not. Nuh-uh.
I could marry a gymnast. That would be just fine. #Olympics#Rio2016

— Rhiannon Chesterman (@RhiannonSarahC) August 10, 2016
The infamous top-knot continues to provoke controversy, even when it comes to one of the heroes of London 2012! Adam J Hepworth expresses his disappointment in Louis Smith's new 'do...
Louis Smith get your hair cut you plonker. There goes our medal! #gymnastics #rio2016

— Adam J Hepworth (@AdamJHepworth) August 8, 2016
We agree with Jay Bryce. It's tough to improve the Olympics, but we're fairly sure that added Michael Jordan, Wayne Knight and Bill Murray would enhance things.
Bonus fact: the original Space Jam website is still online. It's like gazing into the past...see for yourself!
The Basketball is almost as good as that Space Jam film. #Olympics #RioOlympics2016

— Jay Bryce (@thejaybryce) August 10, 2016
Josie Brightwell makes a great point. HRH Glenn Close - the undisputed queen of styling it out with a good blast of head voice. If we give the USA Glenn Close, can we have Imelda Staunton sing 'God Save the Queen' every time Team GB wins gold as well please?
Whenever the USA win gold and they play their National Anthem, I hear Glenn Close. #freeeee #olympics

— Josie Brightwell (@JosieBrightwell) August 10, 2016
Just sidle up and sit down poolside in some red shorts. They won't throw you out. Confidence is everything. Godspeed Mark Townsend.
How I wish I was a lifeguard in Rio right now #Olympics #diving #NoShame

— mark townsend (@mtownsend0611) August 8, 2016
Has Dale White fathered a potential future Olympian? The hard work starts here, coach!
Perks of having a new born baby...Got to watch Great Britain get there first Gold live at precisely 2:50am #AdamPeaty #Olympics #GOLD

— Dale White (@DaleGerrard) August 8, 2016
Olympic fever even extends as far as Richard Munday's dressing room at Her Majesty's Theatre!
Totes obvs I'm watching this during the matinee right now #triathlon #RioOlympics2016 #BrownleeBrothers pic.twitter.com/FtCyqpw3Pe

— Richard Munday (@RichardSMunday) August 18, 2016
Aaand Davina Perera has just ruined the beach coverage for all of us!
Every single time they say Copacabana that bloody song gets in my head... #RioOlympics2016 #Olympics2016 #Rio2016

— Davina Perera (@DavinaPerera) August 18, 2016